ABOUT ARGENTINE TANGO
Argentine Tango is not the tango you see in Ballroom Championship dancing on TV, nor is it what you might have learned in a Ballroom tango class. Rather, it's the social partner dance that is practiced in clubs in Buenos Aires and all over the world, with an emphasis on the relationship between you, your partner, and the music. It is more sensuous and more intimate than other derivative forms of tango. The movie The Tango Lesson has good examples of both club style and stage Tango. Many ballroom dancers (ourselves among them), once introduced to Argentine Tango, have forsaken the study of other dances to focus solely on this exhilarating, romantic, and intensely passionate dance: the Tango.
---
MONTHLY MILONGA IN POINT ARENA
Hosted by Walter & Raquel
Tango at 215 Main is a once-a-month milonga at "215 Main", a beer and wine bar across from the Arena Theater in Point Arena, CA.
No 215 Main milonga scheduled for July, 2014.
Next milonga will be on August 8, 2014, from 8 to 11 pm.
The milonga is FREE except for the purchase of a drink (non-alcoholic drinks are available).
For more information, call Walt at 707.882.2474 or email walts@mcn.org.
A Yelp review of the "215 Main" bar: http://www.yelp.com/biz/215-main-point-arena
---
ARGENTINE TANGO PRACTICA IN UKIAH
Presented by Salon Tango Club of Ukiah
Salon Tango Club of Ukiah hosts a practica every 2nd and 4th Thursday of the month from 6:15 - 8:15 pm at YOMO (Yoga Mendocino Studio), 206 Mason Street, Ukiah, CA.
$13 drop-in fee; a lower sustaining membership price is also available.
For more information please call Benna at 707-895-3883.
---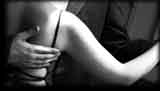 UPCOMING EVENTS ...
A list of workshops, festivals, and other special events occurring in roughly the western third of North America.

August 2014:
Workshop with Mirabai Deranja, Sat, Aug 23, 2014:
A one day workshop with Mirabai Deranja at the Mendocino Ballet studio, 205 State St. in Ukiah. Mirabai is a world reknowned tango instructor based in the SF Bay area. There will be 4 classes from 10 am to 4:45 pm, with a guided practica to follow at 5 pm. $20 for one class, with a sliding scale up to $70 for all four. Private lessons available. For workshop details, information, and/or registration, contact Mary at mpdnd1@gmail.com. In Ukiah, CA: Visit Mirabai's website, miratango.com

Workshops with Eduardo Saucedo in Sacto, Sat-Sun, Aug 23 - 24, 2014:
Tango by the River hosts Eduardo Saucedo for two days of workshops. In Sacramento, CA: rivertango.com/edsaretosama.html

Workshops with Eduardo Saucedo in FB, Fri-Sun, Aug 29 - 31, 2014:
Eduardo Saucedo returns to the Mendocino Coast for a weekend of workshops at the Weller House Inn, hosted by Tango Mendocino. Reserve the dates now! More details will be posted as they become available. In Fort Bragg, CA: No website available

Denver Labor Day Tango Festival Marathon, Over Memorial Day weekend, Fri-Mon, Aug 29 - Sept. 1, 2014:
UPDATE 7/10/14: Tom Stermitz hosts the 15th annual Labor Day Tango Festival (now Marathon) "for dancers, by dancers". Six Seven milongas, now with a total of 41 hours of dancing; three days one day of workshops with Brigitta Winkler and Lazzaro Chionna; guest instructors to be added. In Denver, CO: denvertangofestival.com/
September 2014:
Workshops with Oscar & Georgina, Sat-Sun, Sept. 13-14, 2014:
Tango by the River hosts Oscar Mandagaran and Georgina Vargas for two days of workshops. In Sacramento, CA: rivertango.com/osmaandgeva.html
October 2014:
November 2014:
Tango Maya Festival, Thu-Mon, Nov. 6-10, 2014:
3rd annual festival to be held at the all-inclusive resort Crown Paradise Club Cancun on the Yucatan peninsula of Mexico. Milongas, shows and master tango classes with international artists. A one-day side trip to Tulum is available (extra cost) to see Mayan ruins and swim in a cenote. In Cancun, MX: tangomayafest.com

San Francisco Tango Marathon, Fri-Sun, Nov. 7-9, 2014:
Not much information on their website other than a registration page and a brief history, but those of you who've attended before know what it's about. In San Francisco, CA: http://www.sftangomarathon.com

Fandango de Tango, Wed-Sun, Nov. 26-30, 2014:
16th annual event held at the downtown Omni Dallas Hotel. Over 100 hours of "tango dancing fun" and over 37 hours of social tango dancing. In Dallas, TX: fandangodetango.com//
December 2014:
Day of Tango Festival, Fri-Sun, Dec. 5-7, 2014
The Academy of Tango, Texas presents the fourth annual Day of Tango Festival with performances by international tango champions, local area tango instructors, professional performers, and musicians; in Austin, TX: dayoftango.org

International Day of Tango, Thurs, Dec. 11, 2014
December 11 is officially El Dia Nacional del Tango as established by La Academia Nacional del Tango de la Republica Argentina in 1977 to honor and commemorate the birthdays of the famous orquesta leader Julio de Caro (1899) and the legendary and still-revered and idolized tango singer Carlos Gardel (1890), both born on the same day, nine years apart. The "Day of Tango Festival" (above) is Austin's official recognition of this date. Two websites with info on the "Day of Tango": Day of Tango 1; Day of Tango 2 (the latter is a Bulgarian website)

San Diego Tango Festival, Dates not yet confirmed...
The 9th annual San Diego Tango Festival will very likely be held at the end of December, probably starting the day after Christmas and going until Jan. 1, 2015, if past years have been any example. The SDTF website has not yet been updated for this year's event as of this posting; in San Diego, CA: sandiegotangofestival.com
---
For more information on tango events in the San Francisco bay area and other major US cities, visit the excellent and comprehensive Tango Mango website at tangomango.org.
---
THE TEMPTATION TO TANGO
By Irene D. Thomas and Larry M. Sawyer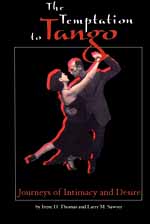 Two of Tango Mendocino's own milongueros have written a fascinating book about the attraction of tango and what it's like to learn this complex and engaging dance.
A unique feature of this book is that it includes both a man's and a woman's point of view. Irene's essays give newcomers an idea of what they will encounter, both physically and emotionally, in the process of learning this dance; advanced dancers will recognize themselves and the experiences she describes. Larry's short stories offer vignettes of the tango experience from a variety of perspectives and add an extra dimension that enhances the reader's understanding of the alluring world of tango.
Part essay, part memoir, part history, part fiction, The Temptation To Tango appeals to experienced dancers, beginners just starting their tango journey, those who aren't yet sure if tango is for them, and those who are simply curious about why this dance is so compelling to so many.
Excerpts from the book are available online. Visit their website, http://TheTemptationToTango.com, for more information and to order your copy.
---
THE IMPORTANCE OF LEAD AND FOLLOW ROLES

Leaders:
Some may say that Leading is the more challenging role in tango, because from a kaleidoscope of options, continuous split-second decisions require pleasing a partner, interpreting the music, maintaining safety & direction, and uniquely expressing oneself.

Followers:
Some may say that Following is the more challenging role in tango, because it requires near-psychic sensitivity which must be slightly subdued, while making continuous accurate split-second responses to match a partner, enhance the music, maintain balance, and uniquely express oneself.

With thanks to Polly McBride of Portland, OR -- from her (now defunct) All Things Argentine Tango website.

<! =================================================================== >
---
TANGO DANCE ETIQUETTE
Here is an informative explanation of the etiquette of the Tango. This is especially good information for new dancers who haven't yet had much experience at milongas or Tango dance workshops, with lots of good general tips plus specific advice for leaders and for followers. More experienced milongueros probably know much of this already, but it's still a good review.
---
WHERE DO WE DANCE?
Here are maps and driving directions to tango venues on the Mendocino coast:

<! =================================================================== >
---
---
---