ABOUT ARGENTINE TANGO
Argentine Tango is not the tango you see in Ballroom Championship dancing on TV, nor is it what you might have learned in a Ballroom tango class. Rather, it's the social partner dance that is practiced in clubs in Buenos Aires and all over the world, with an emphasis on the relationship between you, your partner, and the music. It is more sensuous and more intimate than other derivative forms of tango. The movie The Tango Lesson has good examples of both club style and stage Tango. Many ballroom dancers (ourselves among them), once introduced to Argentine Tango, have forsaken the study of other dances to focus solely on this exhilarating, romantic, and intensely passionate dance: the Tango.
---
TANGO AT 215 MAIN IN POINT ARENA
Tango at 215 Main is a cozy, welcoming milonga held periodically at 215 Main St., a beer and wine bar across from the historic Arena Theater in Point Arena, CA.
Small but warm and inviting crowd and space with decent floor, craft beer, local wines, great sandwiches and small plate eats.
The next milonga will be on Friday, August 3, 2018, from 8 to 11 pm. Ely Gilliam is the guest DJ, providing mostly traditional music.
A $5 entry fee is requested.
For more information, call Hal at 707.799.7879 or email Hal_Ferguson78@POBox.com.
Visit the 215 Main website for more information about this venue.
---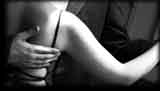 UPCOMING EVENTS ...
A list of workshops, festivals, and other special events occurring in roughly the western third of North America.

July 2018:
Marcelo Molina workshops, Four Thursdays, July 5, 12, 19, & 26, 2018
Renowned tango dancer and teacher Marcelo Molina returns to Sacramento for 4 consecutive Thursday workshops for Intermediate/Advanced dancers. Marcelo is an excellent tango teacher, whose focus on detail helps his students become ever more elegant and smooth, and thus more enjoyable to dance with. All workshops 7:00-8:30 pm. At Tango by the River in Sacramento, CA: Tango by the River

Encuentro Milonguero Salida, Fri-Sun, July 20-22, 2018
Salida Encuentro Milonguero with Liz Haight at Casa Tango in the beautiful mountain river valley town of Salida, Colorado. Satisfy your passion for Tango, Art, and the Great Outdoors -- day & night. Hike, mountain bike, kayak, fish, ski, soak in natural hot springs, visit art galleries, and ... dance Argentine Tango! Contact Dvora (dvora@casatangosalida.com) for waiting list information. In Salida, CO: Casa Tango Salida

Summer Intensive Tango Workshops in Portland, Sat-Mon, July 21-23, 2018
Dominic Bridge teaches a Summer Tango Intensive. 6 workshops + 2 practicas, including a Milonga workshop and a technique class on the walk! At Tango Berretin in Portland, OR: more info and schedule at PortlandTango.com
August 2018:
Mountain Milonga Tango Retreat, Fri-Sun, August 3-5, 2018
Mountain Milonga Retreat is a unique tango adventure in a rustic 1929 ski lodge at 9,000 ft. elevation up in UtahÕs Wasatch Mountain Range, at the historic Wasatch Mountain Lodge at Brighton Ski Resort, Utah. Great floor, great vibe, and mindblowing asado. The MMTR will feature a beautiful constellation of regional teaching and DJing talent. 7 milongas; live music; 8 classes; music jam; all meals provided; grand asado night; wild mushroom hunt; outdoor adventures; massages; bunk-in tango dorms; tango chalets; and more. In Brighton, UT: Mountain Milonga Tango Retreat

Las Mujeres Tango Marathon, Fri-Mon, August 17-20, 2018
Why Las Mujeres? From the website: "The world is kind of funky right now and a bit unsettling, isn't it? We looked around our fairly liberal city, and thought, 'Let's rally everyone together here, in the summer, when the weather is delicious. and let's give women the spotlight for a weekend. Let's attract all the dancers who would like to support that sort of thing, and see what magic energy we can get flowing in the cool, circular space that is Om Culture [a dance venue]. We'll feed people and hug them and book amazing DJs and create a safe space for everyone, regardless of gender (or non-gender) to explore and connect and do this beautiful thing we love that is tango. Are you in?'" While all are welcome to participate, the focus is that all the DJs will be women. Five milongas (including one outdoors with a picnic) with an "unofficial kickoff party" and an extra "after party milonga", plus an optional whale watching excursion. In Seattle, WA: Las Mujeres Tango Marathon
---
For more information on tango events in the San Francisco bay area and other major US cities, visit the excellent and comprehensive Tango Mango website at tangomango.org.
---
THE TEMPTATION TO TANGO
By Irene D. Thomas and Larry M. Sawyer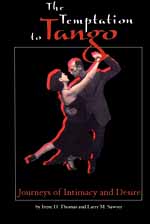 Two of Tango Mendocino's own milongueros have written a fascinating book about the attraction of tango and what it's like to learn this complex and engaging dance.
A unique feature of this book is that it includes both a man's and a woman's point of view. Irene's essays give newcomers an idea of what they will encounter, both physically and emotionally, in the process of learning this dance; advanced dancers will recognize themselves and the experiences she describes. Larry's short stories offer vignettes of the tango experience from a variety of perspectives and add an extra dimension that enhances the reader's understanding of the alluring world of tango.
Part essay, part memoir, part history, part fiction, The Temptation To Tango appeals to experienced dancers, beginners just starting their tango journey, those who aren't yet sure if tango is for them, and those who are simply curious about why this dance is so compelling to so many.
---
THE IMPORTANCE OF LEAD AND FOLLOW ROLES

Leaders:
Some may say that Leading is the more challenging role in tango, because from a kaleidoscope of options, continuous split-second decisions require pleasing a partner, interpreting the music, maintaining safety & direction, and uniquely expressing oneself.

Followers:
Some may say that Following is the more challenging role in tango, because it requires near-psychic sensitivity which must be slightly subdued, while making continuous accurate split-second responses to match a partner, enhance the music, maintain balance, and uniquely express oneself.

With thanks to Polly McBride of Portland, OR -- from her (now defunct) All Things Argentine Tango website.

<! =================================================================== >
---
TANGO DANCE ETIQUETTE
Here is an informative explanation of the etiquette of the Tango. This is especially good information for new dancers who haven't yet had much experience at milongas or Tango dance workshops, with lots of good general tips plus specific advice for leaders and for followers. More experienced milongueros probably know much of this already, but it's still a good review.
---
WHERE DO WE DANCE?
Here are maps and driving directions to tango venues on the Mendocino coast:

<! =================================================================== >
---
---
---