ABOUT ARGENTINE TANGO
Argentine Tango is not the tango you see in Ballroom Championship dancing on TV, nor is it what you might have learned in a Ballroom tango class. Rather, it's the social partner dance that is practiced in clubs in Buenos Aires and all over the world, with an emphasis on the relationship between you, your partner, and the music. It is more sensuous and more intimate than other derivative forms of tango. The movie The Tango Lesson has good examples of both club style and stage Tango. Many ballroom dancers (ourselves among them), once introduced to Argentine Tango, have forsaken the study of other dances to focus solely on this exhilarating, romantic, and intensely passionate dance: the Tango.
---
TANGO AT 215 MAIN IN POINT ARENA
Tango at 215 Main is a cozy, welcoming milonga held periodically at 215 Main, a beer and wine bar across from the historic Arena Theater in Point Arena, CA.
Milongas held monthly on a mid-month Friday, 8 to 11 pm. Next milonga date to be announced. Walter Stillman provides the mostly traditional music.
A $5 entry fee is requested.
For more information, call Hal at 707.799.7879 or email Hal_Ferguson78@POBox.com.
Visit the 215 Main website for more information about this venue.
---
DROP-IN PRACTICA IN FORT BRAGG ON TUESDAYS
Hosted by The Weller House Inn
The Weller House Inn offers an informal practica on Tuesday evenings from 7-9 pm, held in the historic redwood ballroom. Everyone welcome, from accomplished dancers to the just curious. Music by various DJs. A $5 floor fee is requested. For more information, contact Terry at 707-734-0961.
---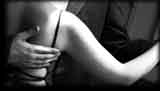 UPCOMING EVENTS ...
A list of workshops, festivals, and other special events occurring in roughly the western third of North America.

November 2017:
Workshops with Cecilia Gonzalez in Utah, Thurs-Sun, Nov. 16-19, 2017
Most tango dancers are familiar with the incredible dancer and instructor, Cecilia Gonzalez. In brief: "The technical precision, fluidity of her movements and notable capacity of improvisation characterize her dance." One of the few women, if not the only woman, invited to teach at the renowned C.I.T.A. in Buenos Aires since its inception. Cecilia has held workshops on the Mendocino coast on many occasions in the past. Wasatch Tango Club is hosting. In Salt Lake City, Utah: Wasatch Tango Club: Workshops with Cecilia

Connect 2017 Tango Festival, Fri-Sun, Nov. 24-26, 2017
"Delve deeply into tango's essential elements ... for a weekend of discovery and bliss." Role balanced. Early bird discount ends October 31. In Ashland, OR: Connect Tango Fest
December 2017:
January 2018:
Workshops with Maxi & Paloma, Sat-Sun, Jan. 13-14, 2018
Not much info on the Wasatch Tango website yet, nor are the dates exactly clear. But if you're going to be in Salt Lake City on these dates, it might be worth checking out. Check their calendar for updates. In Salt Lake City, UT: WasatchTango.com

Encuentro Milonguero San Francisco Bay Area, Fri-Sun, Jan. 26-28, 2018
Jonathan & Olivia host their 4th annual Encuentro Milonguero San Francisco at a new venue, the Old World Historical Masonic Lodge. A role-balanced encuentro for advanced Milonguero Style dancers, featuring five milongas, two dinners, and four optional pre-encuentro workshops taught by four different milonguero style instructors. In Burlingame, CA: TangoApilado.com

Hawaii Tango Marathon, Fri-Sun, Jan. 26-28, 2018
A marathon of dancing for experienced Argentine Tango dancers...in beautiful tropical Hawaii. Inspirational presentations, themed milongas, great DJs and lots of great dancing with partners from Asia and North America. Lots of VIP guests, plus live music. In Honolulu, HI: TangoApilado.com
---
For more information on tango events in the San Francisco bay area and other major US cities, visit the excellent and comprehensive Tango Mango website at tangomango.org.
---
THE TEMPTATION TO TANGO
By Irene D. Thomas and Larry M. Sawyer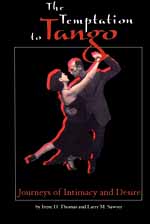 Two of Tango Mendocino's own milongueros have written a fascinating book about the attraction of tango and what it's like to learn this complex and engaging dance.
A unique feature of this book is that it includes both a man's and a woman's point of view. Irene's essays give newcomers an idea of what they will encounter, both physically and emotionally, in the process of learning this dance; advanced dancers will recognize themselves and the experiences she describes. Larry's short stories offer vignettes of the tango experience from a variety of perspectives and add an extra dimension that enhances the reader's understanding of the alluring world of tango.
Part essay, part memoir, part history, part fiction, The Temptation To Tango appeals to experienced dancers, beginners just starting their tango journey, those who aren't yet sure if tango is for them, and those who are simply curious about why this dance is so compelling to so many.
---
THE IMPORTANCE OF LEAD AND FOLLOW ROLES

Leaders:
Some may say that Leading is the more challenging role in tango, because from a kaleidoscope of options, continuous split-second decisions require pleasing a partner, interpreting the music, maintaining safety & direction, and uniquely expressing oneself.

Followers:
Some may say that Following is the more challenging role in tango, because it requires near-psychic sensitivity which must be slightly subdued, while making continuous accurate split-second responses to match a partner, enhance the music, maintain balance, and uniquely express oneself.

With thanks to Polly McBride of Portland, OR -- from her (now defunct) All Things Argentine Tango website.

<! =================================================================== >
---
TANGO DANCE ETIQUETTE
Here is an informative explanation of the etiquette of the Tango. This is especially good information for new dancers who haven't yet had much experience at milongas or Tango dance workshops, with lots of good general tips plus specific advice for leaders and for followers. More experienced milongueros probably know much of this already, but it's still a good review.
---
WHERE DO WE DANCE?
Here are maps and driving directions to tango venues on the Mendocino coast:

<! =================================================================== >
---
---
---